International PBX Ventures Ltd. engages in the acquisition, exploration, and development of mineral properties in Chile. The company explores for copper, molybdenum and gold deposits and owns 100% interests in eight properties comprising 25,000 hectares in Chile.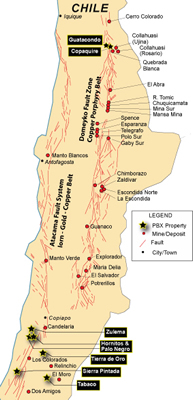 Copper - Molybdenum Porphyry: Its principal project is the Copaquire, an advanced staged exploration project of some 2,000 hectares covering a major copper-molybdenum porphyry system located in the prolific copper-molybdenum porphyry belt of northern Chile. This arc-parallel belt includes 30 porphyry Cu-Mo deposits and prospects with the largest amount of copper concentration in the world, totalling about 220 million tonnes of copper. Teck's Quebrada Blanca and Xstrata/Anglo American's Collahuasi mines are within 15 kilometres of the Copaquire property.
In May 2012 PBX signed a definitive Joint Venture Option Agreement with OZ Exploration Chile Limitada, a wholly owned subsidiary of OZ Minerals Limited of Australia, on PBX's Copaquire copper molybdenum property. The terms of the Agreement allow OZ Minerals to earn a 90% interest in Copaquire by making cash payments of $90 million and drilling up to 30,000 m.
Gold & Copper: Through it's 100% owned Chilean Metals Exploration Ltd. PBX owns six Gold - Copper properties strategically located in the prolific IOCG belt of Chile. The tremendous size, relatively simple metallurgy and relatively high grade of IOCG deposits can produce extremely profitable mines.