The Copaquire project is one of the most unique copper-moly projects in all of South America containing both high grade molybdenum and copper. A molybdenum rich core (Cerro Moly) surrounded by a large porphyry copper system (Sulfato) with grades of up to 2% copper.
| | |
| --- | --- |
| Location: | Region I, Northern Chile |
| Ownership: | 100% |
| Type of Ore body: | Copper, molybdenum and rhenium porphyry |
| Primary Metal: | Copper |
| Secondary Metals: | Molybdenum, rhenium |
| Processing: | Potential crush, grind & floation |
| Infrastructure | Accessible by road, 125 km southeast of the city of Iquique |
OZ MINERALS OPTION AGREEMENT
In May 2012 PBX signed a definitive Joint Venture Option Agreement with OZ Exploration Chile Limitada, a wholly owned subsidiary of  OZ Minerals Limited of Australia, on PBX's Copaquire copper molybdenum property. The terms of the Agreement allow OZ Minerals to earn a 90% interest in Copaquire by making cash payments of $90 million and drilling up to 30,000 m.
COPAQUIRE HIGHLIGHTS
Large Copper/Moly porphyry in the prolific copper belt of Chile.
Chile copper porphyry belt contains highest concentration of copper in the world.
Property completely surrounded by majors - Teck, Rio Tinto, Xstrata, Anglo American.
Potential synergies with 2 nearby operating mines – Quebrada Blanca & Collahuasi (3rd largest copper mine in the world).
Jintian Copper (largest consumer of copper in China) invests (13+%) in PBX.
Copaquire contains to large copper porphyry systems: Sulfato & Marta
Sulfato porphyry:  2.6 Blbs CuEq in situ (Inferred) & 1.2 Blbs CuEq in situ (Indicated)
THE COPAQUIRE PROJECT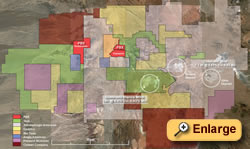 The 100% owned Copaquire Project is located in the Chilean copper porphyry belt. This arc-parallel belt includes 30 porphyry Cu-Mo deposits and prospects with the largest amount of copper concentration in the world, totalling about 220 million tonnes of copper. The Quebrada Blanca and Collahuasi producers are within 15 kilometres of the property
The geological setting and mineralization type is similar to that found in the Collahuasi (7.1 Bt @ 0.83% Cu, 0.02% Mo) and Quebrada Blanca Mines (1 Bt @ 0.50% Cu, 0.02%Mo).
 Geologically the Copaquire Property includes several mineralized targets (Cerro Moly, Sulfato South and North, the Marta Zone and the Skarn Zone) all which are related and correspond to a large porphyry copper system (of Tertiary age) intruded into Jurassic and Cretaceous rocks within dominant structural controls (such as faults, fractures, dikes and breccias) that are located immediately west of the regional West Fissure Fault (Domeyko System).
The main rock types that outcrop in the Sulfato area correspond to a group of Jurassic marine meta-sedimentary rocks and Cretaceous volcanics. These rocks are intruded by a series of Tertiary acid intrusive rocks of which the main ones are the Marta Granodiorite Porphyry, and the Cerro Moly Quartz Monzonite Porphyry.
COPAQUIRE PORPHYRY
The Copaquire porphyry is an intrusive unit outcropping both at Quebrada Sulfato and the southwestern sector of the area. It intrudes older magmatic bodies and it has been interpreted as the last and most differentiated event of the Eocene intrusive period. It has a petrographic composition of a dacitic-rhyolitic porphyry with characteristic "quartz eye" phenocrysts in a fine grained groundmass.
Within the Copaquire Property hydrothermal alteration is observed in the Cerro Moly, Sulfato and Marta areas. The alteration observed in Cerro Moly and Marta is mainly k-spar alteration, whereas in Sulfato South and North the alteration is mostly phyllic, argillic and minor propylitic. These are typical alteration types found in calc-alkalic porphyry copper-molybdenum systems in the Andean region.
Copaquire Porphyry: Cerro Moly Zone
Cerro Moly is a distinct and separate porphyry Stock. It is mainly composed of quartz-monzonite that hosts molybdenum rich mineralization with subordinate copper. Sulphide mineralization is mainly composed of quartz-molybdenite veins and stockwork type veinlets. Minor chalcopyrite has been observed in quartz-pyrite-chalcopyrite veinlets. This quartz-monzonite intrusive is mostly with potassic alteration which can be seen as veinlets of k-spar and secondary biotite. This intrusive also has disseminated pyrite and magnetite. remains open at depth and along the SW-NE long axis of the mineralized trend.
A 2009 Resource Estimate was completed on the Cerro Moly zone.
Case
Cut-Off
Category
Tonnage (kt)
Mo
lb Mo
Cu
lb Copper
Re   (ppm)
MoEq (%)
MoEq (%)
(%)
(%)
Base Case
0.028
Indicated
229,474
0.039
197,246,671
0.111
561,394,373
0.104
0.069
Inferred
193,888
0.026
111,105,580
0.146
623,900,562
0.063
0.066
*Mr. Aldo Vasquez, MAusIMM is the independent QP responsible for the 2009 Resource Estimate.
**Inferred Mineral Resources are not Mineral Reserves. Inferred Mineral Resources do not have demonstrated economic viability, and may never be converted into Reserves.
Copaquire Porphyry: Sulfato South Copper Zone
Based on over 10,000 metres of diamond drill holes completed in the Sulfato areas, it is concluded that the main hypogene mineralization controls in Sulfato South, are similar to the mineralogical controls found in the giant copper porphyry deposits in northern Chile.
Particular similarities have been observed in the geological framework of Sulfato South and that of the Spence Mine (BHP), as the sequence of intrusions in both cases penetrate similar folded sedimentary units of Jurassic and Cretaceous age. The main mineralization event (chalcopyrite and pyrite) in Spence has many similarities with the mineralization style observed in Sulfato.
In the case of Sulfato, a nucleus of high grade copper hypogene mineralization (Bornite-Chalcopyrite) has not yet been recognized, probably due to the shallow depth of drill holes. As in the case of Spence, this high grade nucleus has been recognized. This makes it necessary to drill deeper holes in the Sulfato area or nearby areas.
2010-11 drill programs defined a resource for the Sulfato Zone.
2012 Sulfato South Resource Estimate
Cutoff%CuEq*
Tonnes
% Copper
lb Copper
% Mo
lb Mo
% CuEq
lb CuEq
T x 1000
Grade
Grade
Grade
103,401,506
0.32
720,252,661
0.016
35,408,432
0.4
914,999,037
0.2
*Metal equivalent data are based on US$ 2.50/lb. copper and US$13.50/lb. molybdenum.  In calculating copper equivalencies 100% metal recoveries have been assumed. The contained metal figures shown are in situ.
Inferred Mineral Resources that are considered too speculative, geologically, to have the economic considerations applied to them that would enable them to be categorized as Mineral Reserves.
The identified inferred resources are located within an area representing only 30% of the surface alteration area that defines the Sulfato South zone and the ultimate depth of mineralization has not yet been drill tested. PBX considers that additional diamond drilling to the east and south of the current resource block has the potential of incrementing the resources of the Sulfato South Zone.
1Metal equivalent data  are  based on US$ 2.50/lb copper and US$10.00/lb Moly. In calculating copper equivalencies  100% metal recoveries have been assumed.
Copaquire Porphyry: Sulfato North Copper Zone
The sequence of geological events and their relationship to the copper mineralization at the Sulfato North zone are believed to be similar and related to that observed in the Sulfato South Zone. This is based on similar surface geology, alteration, data from previous RC drilling and this year's diamond drill hole CQ-110 drilled in Sulfato North, which contained copper mineralized intrusive and hydrothermal breccias as those observed in Sulfato South.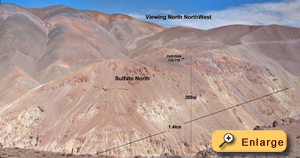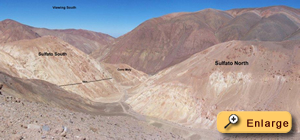 MARTA ZONE
The Marta zone is located approximately 2 kms west of camp. It is a granodiorite intrusive complex that has an elongated shape and measures approximately 4 km long (N-S trend) with an approximate width of 2 km (E-W).
Surrounding the area of molybdenum mineralization, several zones with copper oxides and chalcopyrite on fracture surfaces have been identified. The Marta Zone is believed to be an intrusive complex in which the host rock has been observed to be mainly an equigranular granodiorite with pottassic alteration.
Mineralization in the Marta area is intermittently exposed over several hundred meters and is characterized by potassic altered intrusive with quartz stockwork veins and thin coatings of copper oxides along fracture surfaces. Within this zone an intrusive breccia pipe is exposed which exhibits angular intrusive with impregnations and flooding of chrysocolla (hydrated copper silicate). A chip panel sample (3.0m x 1.0m) taken from the copper intrusive breccia on the Marta assayed at 2.04 % copper. In addition a central core area with quartz-molybdenum veins and stockwork mineralization within a potassic altered intrusive returned grades of up to 0.10% moly across a 3m x 1m panel sample.
Panel samples (2m x 1m) returned copper grades that ranged in the leached zones from 0.1% to 0.3% copper and in the enriched zone in the range of 0.5% to over 1.0% copper.
SKARN ZONE
During 2010 a significant skarn zone was identified in the south central area of the Copaquire Property. The skarn trends N-S for approximately 800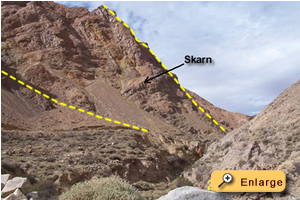 meters and remains open in both directions. Along the Huatocondo road it has an exposed width of approximately 300 meters. It is bound to the east by the Moly Hill intrusive and to the west by the Marta intrusive complex.
The skarn  is observed to have undergone significant retrograde alteration, as evidenced by the replacement of lower temperature minerals such as epidote, from higher temperature ones as garnets. Still visible in outcrop are areas that show the skarnified banded sediments to have a North-South strike and subvertical to vertical dips.
The term retrograde alteration refers to an alteration stage in which higher temperature; generally anhydrous minerals are replaced by lower temperature, generally hydrous minerals. Retrograde skarn mineralogy, in the form of epidote, amphibole, chlorite, and other hydrous phases, typically is structurally controlled and overprints the prograde zonation sequence as seen in Copaquire. Epidote and amphibole group minerals are indicative of relatively low temperature: around <400 Celsius. At Copaquire the retrograde skarn minerals show replacement, and are also contained in vein structure.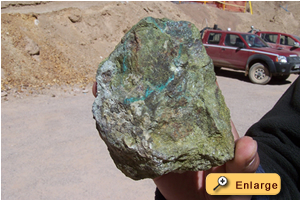 In general, retrograde alteration is more intense and more pervasive in shallower skarn systems. In some shallow, porphyry copper-related skarn systems, extensive retrograde alteration almost completely obliterates the prograde alteration mineral assemblage.
The skarn is mainly composed of epidote, chlorite, actinolite, magnetite and remnant garnet. Sulphide mineralization has been observed in quartz-pyrite-chalcopirite veinlets, also as irregular blebs or concentrations. In outcrop along some fracture surfaces stains of chalcanthite and thin layers of chrysocolla have been observed.
It is not uncommon to find copper skarn mineralization associated with porphyry copper-molybdenum systems. It is well known in the scientific community that large copper deposits can occur associated with mineralized porphyry copper intrusives.
At Copaquire, Skarn mineralization (proximal type skarn) occurs at/or near the periphery between two intrusive contacts with non-calcareous meta-sediments. It is known that higher copper concentrations may only result in districts with multiple intrusive episodes and fluid pulses as those observed at Copaquire. Proximal skarns lacking hydrous, retrograde overprints are unlikely to host significant copper deposits.
Non-calcareous meta-sedimentary host rocks at shallow depths (less than 500 m), as seen at Copaquire, generally tend to deform by fracturing and faulting rather than folding. Faulting and fracturing are more likely to control hydrothermal activity accompanied with the formation of skarn and sulphide minerals.