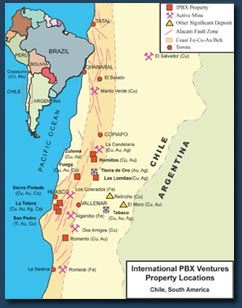 International PBX Ventures Limited's wholly owned, 600 ha San Pedro property, located 600 kilometers north of Santiago, Chile covers several large alteration systems historically mined for copper, gold and rutile (titanium dioxide)
Both mineralized systems, which are separated by 100 meters or less, consist primarily of phyllic alteration with quartz-sericite flooding, silicification and veining associated with aplitic dykes which invade a regional diorite-tonalite intrusive. Mineralisation in the form of disseminated and vein rutile, pyrite, chalcopyrite and copper oxides covers surface areas of approximately 200-300 metres by 100 metres along the top and flanks of a hill with 200 metres of local relief.
Copper Gold
There are a number of old mine workings in the copper-gold alteration zone which primarily exploited high grade copper-gold bearing quartz-sulphide veins and mineralised structures. These typically produced "ore" of 2% + Cu and 3 + gpt Au and were mined to depths of a few to 80 metres. There appears to have been no prior systematic sampling of this system which, based on its know surface area and exposed depth exten, could host a deposit in the 50 to 100 million tonne range.
Rutile
Outcrop sampling of the disseminated rutile bearing alteration system in the early 1990's by previous owners produced grades varying from 1-15% Ti02 with an average of 1.5 to 2% Ti02 over widths of 30 to 150 metres. Its known surface area and exposed depth would also give this system similar deposit size potential to the copper-gold system.
The San Pedro property was recently staked as part of a program to expand the Company's portfolio with properties possessing high potential multi-metal prospects and requires more detailed surface exploration to assess it economic potential.